Encouraging Words with Pastor Bruce & Suzi Elman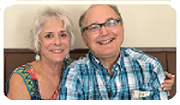 GOD doesn't need the help of any man or woman to accomplish His purpose. However, He has chosen to spread the gospel by means of His children!
As one person tells another the Good News of MESSIAH YESHUA, the story of hope, love and grace will spread around the globe!
YESHUA walked this earth over 2000 years ago, but still today there are people who never heard that YESHUA loves them and came to die for their sins. This is why we are called to serve family, friends and neighbors. Loved ones see GOD'S grace lived out when we offer a helping hand, share the gospel and lift them up in prayer.
Our purpose is to serve GOD, and caring for those around us fulfills that calling!
Ephesians 2:10
For we are His workmanship, created in MESSIAH YESHUA for good works, which God prepared beforehand that we should walk in them.
We can offer GOD many reasons for not serving Him (weakness, inadequacy and fear), but that doesn't change the mandate of scripture. We are the LORD'S feet, hands and voice on earth. We need to go where He wills, help those in need and tell all about the love of YESHUA!
Love & Blessings,
Bruce and Suzi Elman
L'Chaim Messianic Congregation