Encouraging Words with Pastor Bruce & Suzi Elman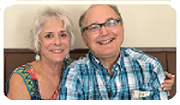 We can all see the godless condition of our nation, recognizing a need for change. Today, let's take a look at GOD'S solution and it just may surprise you!
In our scriptures today, Paul is instructing Timothy to set priorities for the church and "top of the list is prayer for kings and all who are in authority." Paul would never have given this command to him if he didn't believe that the congregation's prayers made a difference in achieving GOD'S purpose for that nation. Let's never lose faith on our sovereign GOD who is on His throne waiting for us to ask for His intervention! Our political policies are not ultimately settled in governmental chambers with our leaders but in our prayer closets. As the body of believers believes and prays, the LORD will respond!
1 Timothy 2:1-2A
Therefore I exhort first of all that supplications, prayers, intercession and giving of thanks be made for all men, for kings and all who are in authority.
GOD is asking us today, "Why have we waited so long to pray?" Every authority on earth can be touched by the power of prayers; if we are willing to ask in faith and believe, GOD will answer!
Love & Blessings,
Bruce and Suzi Elman
L'Chaim Messianic Congregation
Read more blog posts here!