Encouraging Words with Pastor Bruce & Suzi Elman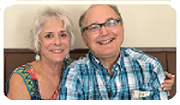 Everyday we have to choose to speak forth good words—the responsibility to control our tongue. Words carry with them power to bless or to curse (James 3:9-12), to build up or to tear down! We can give words of encouragement or crush relationships with insults and criticism.
Sometimes in the heat of an argument we say things we never intended and hurt the very people we love the most! GOD knows the trouble we can get into because of our emotions; so He calls us to be people who control our speech! Callous words doesn't just damage relationships but hinder our effectiveness as Messianic believers.
Proverbs 5:2
The tongue of the wise uses knowledge rightly, but the mouth of fools pour forth foolishness.
What type of words fill your mouth each day? Our words are containers for power and they carry either positive or negative power! Let's strive to think before we speak and ask FATHER GOD to help us tame our tongues!
Love & Blessings,
Bruce and Suzi Elman
L'Chaim Messianic Congregation