Encouraging Words with Pastor Bruce & Suzi Elman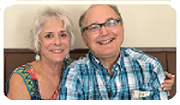 Each Messianic believer's journey is unique! Yet certain stages of growth should be common to all believers. Example: GOD wants to use us through our walk with the Lord to show new believers the basic principles for the foundation of their new life in MESSIAH!
Next, we were created to do good works and this becomes evident as growing believers use their talents to glorify YESHUA!
Then because pride and self-confidence are threats to our spiritual growth, GOD will bring us to a place where we realize we can achieve nothing of value without His guidance and power. The LORD teaches us how to live the exchanged life, check it out in (Galatians 2:20).
Looking back you can recognize these stages, maybe you can see an area where GOD is still working with you. If there is anything standing in the way of allowing Him to live fully through you, then ask the RUAH HAKODESH to help you be everything GOD created you to be!
Love & Blessings,
Bruce & Suzi Elman
L'Chaim Messianic Congregation