Encouraging Words with Pastor Bruce & Suzi Elman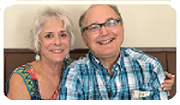 Sometimes we may feel like our  life swings back and forth like a pendulum between faith and doubt! This is a common problem when trying situations come our way. Even though we know what GOD's Word says, our feelings (the flesh) often tell us something totally different!
The question is not if we will experience this but rather how long we will remain on one side or the other. Three factors determine whether we lean toward faith or doubt: 
(1) Strength of our faith at the time of our trial. 
(2) Our knowledge and understanding of GOD and His Word.
(3) Our experience with failure or success in past trials! 
To grow in faith, it's really necessary to change not only our focus but also our thinking and listening practices. 
We need to set our mind on GOD's promises, not our feelings! 
Listen to the voice of the Holy Spirit—not Satan's lies.
And remember GOD's past faithfulness in trials!
James 1:6
"But let him ask in faith, with no doubting, for he who doubts is like a wave of the sea driven and tossed by the wind."
By choosing to walk by faith, it will be possible to bring feelings of doubt, anxiety, fear and anger into true full submission to what we know is true—GOD's faithfulness will see us through! 
Yes! "PTL!" 
With lots of prayers, love and blessings,
Pastor Bruce and Suzi Elman
L'Chaim Messianic Congregation