Encouraging Words with Pastor Bruce & Suzi Elman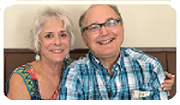 If there is anything that will stop the flow of fellowship (prayer with our Creator), it's guilt and condemnation!
Think about it. When you do something wrong and you don't deal with it the way GOD wants you to, you feel guilty and condemned. Then we often retreat and separate ourselves from our heavenly FATHER, not feeling worthy to enter His presence in prayer.
What do we do? We must repent; turn from our sin, and then our flow of fellowship with ABBA FATHER  will be fully restored!
Make no mistake, as believers, we are in MESSIAH, and nothing can separate us from GOD'S love (Romans 8:38)! The gift of repentance is such a blessing, and it keeps on giving; we can use it everyday. YESHUA provided it all for us on Calvary!
Romans 8:1
There is therefore now no condemnation to those who are in MESSIAH YESHUA who do not walk according to the flesh, but according to the Spirit.
All that GOD is and all that GOD has is ours in MESSIAH YESHUA . Don't let guilt and condemnation keep you from your privilege of prayer!
Love & Blessings,
Pastor Bruce & Suzi Elman
L'Chaim Messianic Congregation