Encouraging Words with Pastor Bruce & Suzi Elman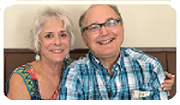 We are to trust the Bible's accuracy! It is meant to have a positive influence on our conversation, conduct, and character.
When on the earth, Yeshua, the son of GOD, affirmed the validity of the Old Testament by using it! After His resurrection, He explained what Moses and the prophets said about Him (Luke 24:27). Then He promised the disciples that the Ruach Hakodesh would enlighten their minds and jog their memories (John 14:26). This ensured the New Testament's accuracy!
Like a well that never runs dry, the Bible offers a fresh taste of living water each time we open it. We could only skim its surface even by reading it in one's lifetime! Over time, various leaders have tried in vain to destroy it or restrict access to it!   
(Psalm 119:105…Your Word is a lamp to my feet and a light to my path… )
The Scriptures are the LORD'S way of revealing Himself to humanity. Even though throughout history, there have been many that tried to destroy its meaning, it is still the most loved book in the world and keeps winning hearts to MESSIAH YESHUA! Is it lighting your path today?
Love & Blessings,
Bruce & Suzi Elman
L'Chaim Messianic Congregation