Encouraging Words with Pastor Bruce & Suzi Elman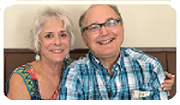 The good things in life are not the result of material possessions or position held. They are based on one thing—a personal relationship with the Savior of the world, MESSIAH YESHUA!
When our hearts are set on fulfilling our desires rather than His, we experience trouble, heartaches and frustration! Many may say, "I just want to enjoy life, can I do this and also give my life to Yeshua MESSIAH?" Absolutely! In fact, the only way to experience lasting joy and contentment is through an intimate relationship with YESHUA!
Apart from Him there is only emptiness of soul and spirit!
Matthew 6:19-20
"Do not lay up for yourself treasures on earth where moth and rust destroy and where thieves break in and steal; but lay up for yourselves treasures in heaven, where neither moth nor rust destroys and where thieves do not break in and steal." (NKJV)
While the world rushes after material gain and social position, the Word instructs us (believers) to seek first the Kingdom of GOD and His righteousness and these things shall be added to you (Matthew 6:33). 
Let's not risk the greatest opportunity we could ever be given—a personal loving relationship with the GOD of this universe! Wow! Yes! "PTL!"
With lots of prayers🙏🙏, love ❤️ & hugs, 
Shalom!
Pastor Bruce & Suzi
L'Chaim Messianic Congregation