Encouraging Words with Pastor Bruce & Suzi Elman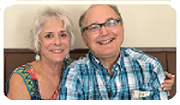 A Very Blessed day to you from Pastor Bruce & Suzi!
Being a believer in Messiah Yeshua isn't always easy. In fact, sometimes we'll experience trials that truly test our faith and ability to trust in GOD.   
In today's Scripture, Peter refers to times of testing as "fiery ordeals"! He says we shouldn't be surprised when hardships come our way.
It's important to remember that GOD has a purpose for our trials and will see us through each step of the way.   Sometimes, our heavenly FATHER uses painful experiences to cleanse and purify us, His children.  
See, trials are to drive us closer to God, and we can begin to focus more on Him and start to see things from His perspective!  He also uses them to strengthen our faith and our devotion to Him.
1 Peter 4:12
eloved, do not think it strange concerning the fiery trial which is to try you, as though some strange thing happened to you.
In the midst of adversity, we might feel overwhelmed and discouraged. But once the storm has passed, we can often look back and see that the LORD'S providential hand carried us through. 
Oh, indeed, yes! "PTL!" 
In Yeshua's Name. Amen.  
With lots of prayers & love, shalom!
Pastor Bruce and Suzi Elman
L'Chaim Messianic Congregation