Encouraging Words with Pastor Bruce & Suzi Elman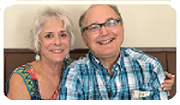 What causes some people to fail and others to achieve their goals? Society tells us the definition of successful achievement in life is fame, fortune or power! But GOD'S Word tells us something different.
In GOD'S eyes, true success means becoming what He wants us to be and reaching the goals He has set for our lives (Heb. 12:1). 
We should seek encouragement from the lives of other believers who have seen MESSIAH'S faithfulness and followed His direction. We need to get rid of anything that holds us back from obeying GOD. And we need to persevere through difficult and discouraging times, always relying on YESHUA for guidance and strength so we can succeed in GOD'S plan for our lives.
Proverbs 3:5-6 Trust in the Lord with all your heart and lean not on your own understanding; in all your ways acknowledge Him and He will direct your path.
FATHER GOD has a wonderful plan for blessing and fulfillment in your life and part of His plan is that you live with purpose and perseverance! Stay in the Word, pray for direction and if necessary seek godly counsel!
Love & Blessings,
Pastor Bruce & Suzi Elman
L'Chaim Messianic Congregation
Lake Worth, FL (Lantana area)