Encouraging Words with Pastor Bruce & Suzi Elman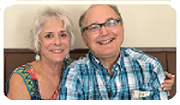 In our Scripture today, we find YESHUA  talking to His disciples, telling them to pray in His Name, and that if they did, GOD would answer them. This is a powerful promise, but it comes with specific requirements! 
Praying in YESHUA'S Name points out the necessity of a family relationship with FATHER GOD through MESSIAH!
If you have received YESHUA as your personal Savior, you then belong to the family of GOD. (You are His child then!) So, coming to the FATHER in YESHUA'S Name is your privilege as His child! We have access to GOD through YESHUA and Him alone! (John 14:6)
Our Savior opened the way for us to approach GOD as FATHER and receive answers to our prayers. Because of our sin-debt being paid for on Calvary, we can come into the Throne Room knowing with confidence our requests will be heard and answered in GOD'S timing.
John 14:13–14
And whatever you ask in my Name, that I will do, that the FATHER may be glorified in the Son. If you ask anything in My Name I will do it.
As believers in MESSIAH YESHUA, we can enter the Throne Room, not as beggars but as heirs of GOD the FATHER and coheirs of MESSIAH. Glory be to His mighty Name!
Love & Blessings,
Pastor Bruce & Suzi Elman
L'Chaim Messianic Congregation
Lake Worth, FL (Lantana area)