Encouraging Words with Pastor Bruce & Suzi Elman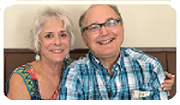 We have an enemy, his name is Satan and he hates us because we are GOD'S children, created in GOD'S image and we have fellowship with Him!
Satan wants us to always be looking at how far we have fallen; rather than how far we have come in our walk with Yeshua!
Remember, Satan is a liar and there is no truth in him (John 8:44). He is the father of lies! He always wants our focus to be on our past instead of our future and how far we still have to go; rather than how far we have come!
He wants our mind filled with how many times we failed instead of how many times we have succeeded!
But, our heavenly FATHER wants us to focus on our strengths, not our weaknesses, our victories, not our failures and not our problems, but our blessing.
Philippians 3:13-14 "Brethren, I do not count myself to have apprehended, but one thing I do, forgetting those things which are behind and reaching forward to those things which are ahead, I press toward the goal for the prize of the upward call of God in Messiah Yeshua… "
Let's keep our eyes focused on Yeshua and don't ever believe the lies of Satan!
Love & Blessings,
Bruce & Suzi Elman
L'Chaim Messianic Congregation