Encouraging Words with Pastor Bruce & Suzi Elman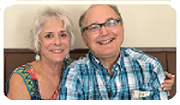 What does love look like? For this, we have to look at ABBA THE FATHER!   
1 John 4:8 says GOD is love. He knows nothing else! We see throughout Scripture the love YESHUA had for all people and how He handled Himself when they came up against Him and how He behaved during trials. Love puts up with anything and never gives up.
Love is not a feeling; it's a decision we make. It's seen when we treat people the way GOD instructs us to treat others! And it doesn't matter how we feel!
Colossians 3:14
Above all, clothe yourself with love, which binds us all together in perfect harmony.             
When we choose to love, even the unlovable, we are honoring and glorifying GOD! Let the Holy Spirit lead you; ask Him to put someone on your heart today that needs to feel loved. It will return back to you many times over!
Love & Blessings,
Pastor Bruce and Suzi Elman
L'Chaim Messianic Congregation