Encouraging Words with Pastor Bruce & Suzi Elman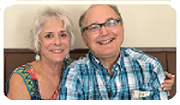 A greatly blessed day to you from Pastor Bruce & Suzi!
As children of the Most High GOD, He would like us to be like a city on a hill, the light of the world, shining brightly in the darkness with the love of YESHUA and His message of redemption (Matt. 5:14-15).               
As we learned recently, it is possible for our fire to cool, which greatly affects our witness!  So, let's be aware of where we are… 
Is our walk with YESHUA less dynamic than it used to be?   Think back on the zeal you had for YESHUA when you were first  saved.   If we have let our flame go out, let's honestly acknowledge it and do something about it, such as get back in the Word, spend time in daily prayer and get to really know your heavenly FATHER. 
Ask the Holy Spirit to help you refocus your attention.
1 Timothy 4:15
Meditate on these things, give yourself entirely to them, that your progress may be evident to all.
Is your faith walk lacking true excitement and fervor? If so, start today to saturate your mind with the principles of GOD and let Him use your fire to draw others to Him andwatch His favor be upon you! Yes! 
In Yeshua's Name. Amen With lots of prayers, hugs & love, shalom!
Pastor Bruce & Suzi Elman!
L'Chaim Messianic Congregation