Encouraging Words with Pastor Bruce & Suzi Elman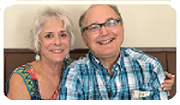 A Most Blessed day to you from Pastor Bruce & Suzi!     
In our Scripture today, Apostle Paul is telling us how to avoid strife through the spirit of humility by regarding others as better than ourselves. We should always be on the lookout for the interests and welfare of others more than our own and do nothing from conceit or empty arrogance.
We are to imitate our Savior, YESHUA, having the same humble mind that He displayed!
This can be a difficult challenge because our flesh wants to shout: "But what about me?!?" 
But, if we resist our flesh and are obedient to these instructions, by humbling ourselves, being willing to put the needs of others before ours, we will then live in harmony, and therefore, be pleasing unto the LORD!
Philippians 2:3-4
Let nothing be done through selfish ambition or conceit, but in lowliness of mind let each esteem others better than himself. Let each of you look out not only for his own interests but also for the interests of others.
When we put the needs of others before our own, we are pleasing our ABBA FATHER and at the same time honoring His Word! 
Pleasing GOD always brings with it great joy and peace! Yes! 
In Yeshua's Name. Amen.  
With lots of prayers, love & hugs, Shalom! 
Pastor Bruce & Suzi Elman
L'Chaim Messianic Congregation