Encouraging Words with Pastor Bruce & Suzi Elman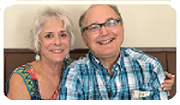 GOD wants us to serve Him enthusiastically and wholeheartedly! He doesn't like half-hearted effort. Our verse today warns us against being lukewarm and teaches us that being neither hot nor cold is not acceptable to GOD. He would prefer that we be cold toward Him, rather then lukewarm! Why? It seems lukewarm is better than nothing, right? Well, this is because lukewarm people are easily deceived into thinking they are doing what they should be doing, when in fact they are not! 
Example: these people might go to church as an obligation, but in reality they do not want to be there at all! They are offering sacrifice, not whole-hearted obedience!
Revelation 3:15-16
I know your works, that you are neither cold nor hot, I could wish you were cold or hot. So then, because you are lukewarm and neither cold nor hot, I will spew you out of My mouth.
Our LORD never does anything half-way and we should not either! We need to work unto the LORD, heartedly (with all our heart)! Never lag in zeal and in earnest effort; be aglow with your love of GOD, heart, soul and spirit!
Love & Blessings,
Bruce & Suzi Elman
L'Chaim Messianic Congregation