Encouraging Words with Pastor Bruce & Suzi Elman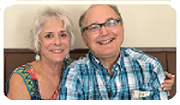 Do you know GOD made you special?

There is no one else on the earth like you with your unique mix of gifts, talents and traits! GOD, our FATHER, didn't make you to be superior or inferior. He created you to be unique and to fulfill His specific purpose for your life here!

We should never look at others condescendingly with an attitude of superiority or look down on ourselves thinking to be inferior to our brothers and sisters in MESSIAH.
We should never compare apples to oranges! We shouldn't be judging others or ourselves by a standard that is not GOD'S will for us as individuals.
(Romans 12:3) For I say, through the grace given to me, to everyone who is among you not to think of himself more highly than he ought to think, but to think soberly as God has dealt to each one a measure of faith.
Ask GOD to reveal your gifts to you and teach you how you can make your unique contribution as a member of the body of MESSIAH!
Love & Blessings,
Bruce and Suzi Elman
L'Chaim Messianic Congregation