Encouraging Words with Pastor Bruce & Suzi Elman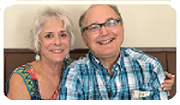 Earth isn't our everlasting home. Our 
citizenship
 is in heaven. Together we eagerly wait for YESHUA to come and take us to live with Him forever. In the meantime, we have 
direct access
 to God through the Holy SPIRIT. When days are long and nights are painful, we can remember where our real home is. This life of ups and downs are only temporary. In the loving arms of YESHUA, we can find 
grace and mercy
 in time of need.
We are united with our Savior. I am one in spirit with Him, and so are you! YESHUA doesn't call us His servants; as a matter of fact, he calls us His friends. He tells us that servants do not know what the Master's business is. "I have called you friend, for everything that I learned from my Father, I have made known to you" (John 15:15).
YESHUA is with us while we wait for His return. It's important that we spend time in His Word and learn who He says we are. We are His children, and for God so loved the world that he gave his one and only Son, that whoever believes in HIM shall not perish but have eternal life (John 3:16).
This world is not our home and for many MESSIANIC JEWISH BELIEVERS, we feel like we don't belong. The hard truth is that we don't belong here. We belong with MESSIAH in the heavenly places. The good news is that we can have heavenly moments with MESSIAH now! It's in these times we find His strength to help us carry on.
Inspired by author—Lisa Brown
Love & Blessings,
Bruce and Suzi Elman
L'Chaim Messianic Congregation